Underwater Operations Transformed
Subsea Robotics Redefined

Driving Industry Innovation
Unlock & Elevate
Your Subsea Capability
Operate & Explore
Without Boundaries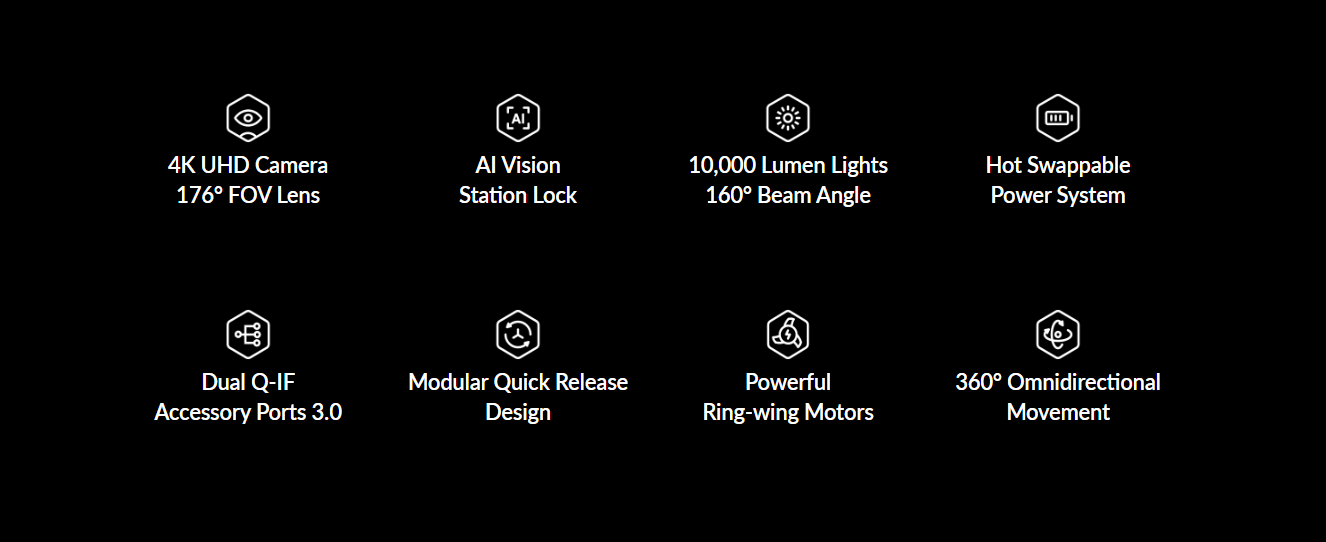 Elite, Aesthetic & Functional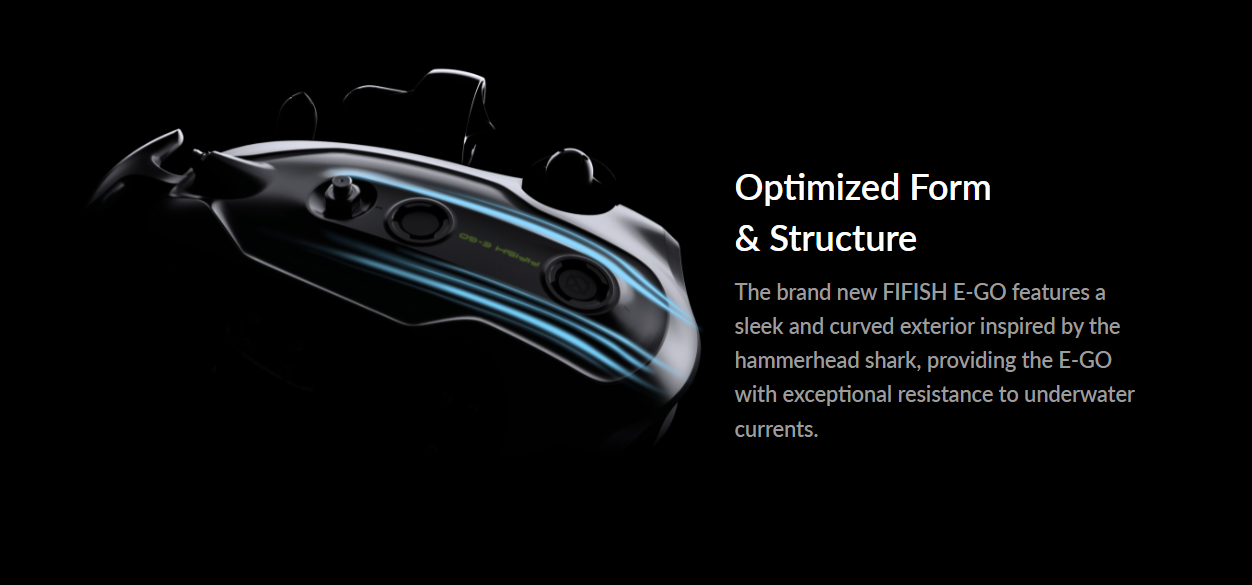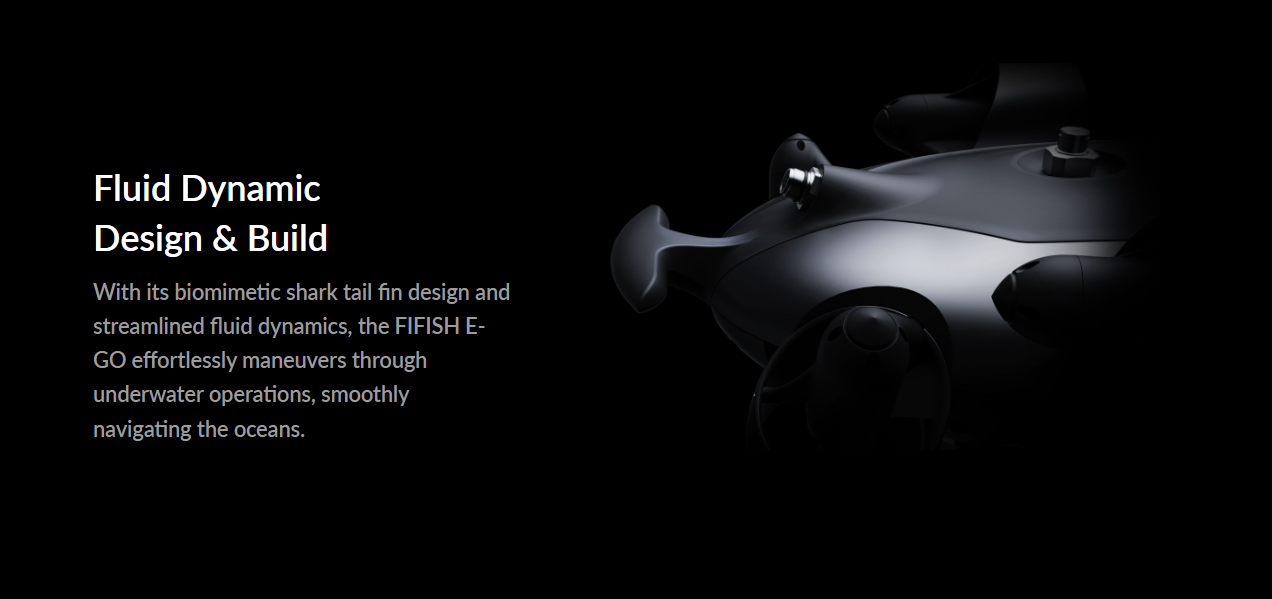 Advanced Power & Strength
With FIFISH E-GO's new Ring-wing design, experience a 30% increased speed and 50% improved kinetic energy efficiency from previous generations. The E-GO's anodized aluminum alloy blades deliver strong damage resistance, corrosion resistance, and anti-crystallization. Carry out smooth and worry-free operations.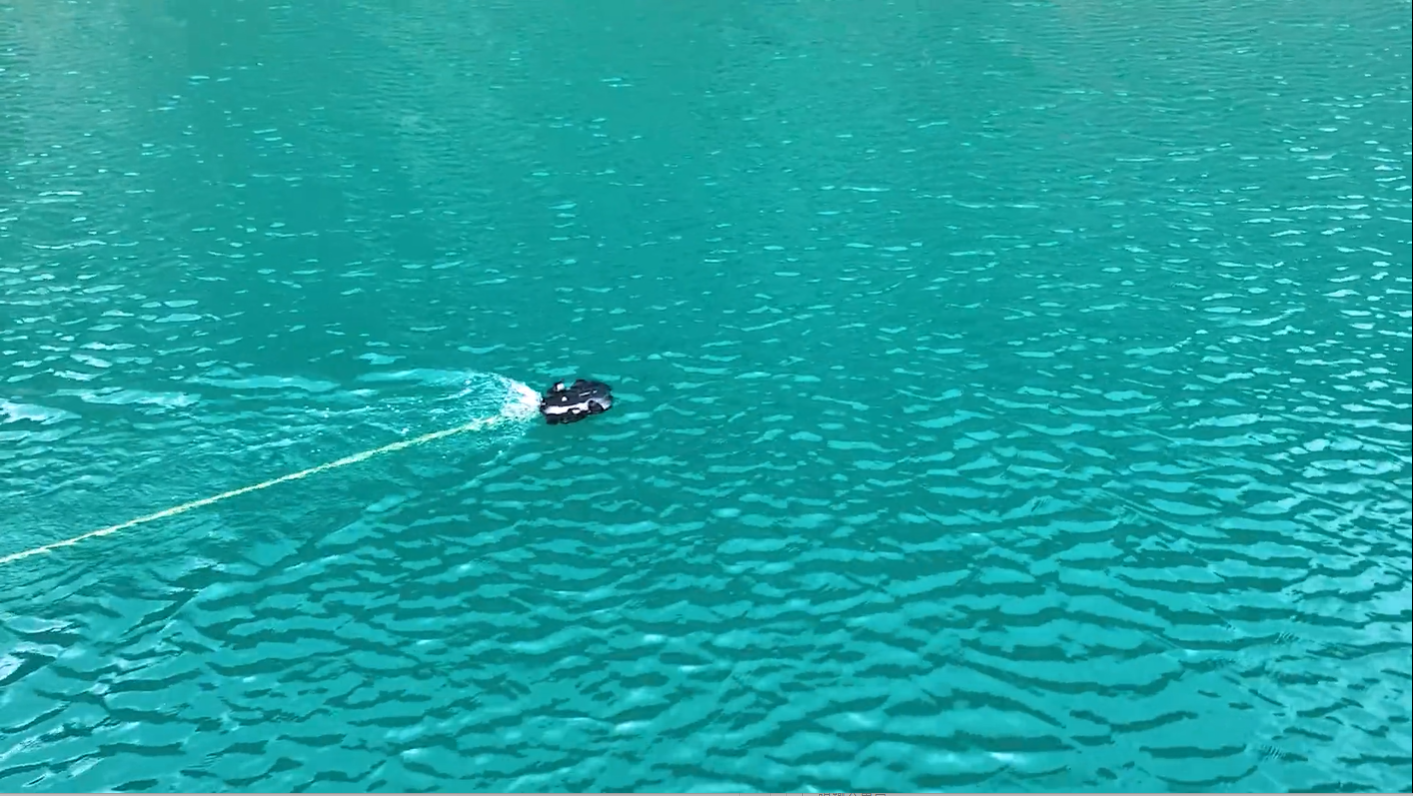 Complete Freedom
of Movement
FIFISH E-GO achieves 360° omnidirectional movement and hovering capability, with zero blind spots. Powered by six-axis vector motors, FIFISH E-GO excels in all-dimensional underwater operations.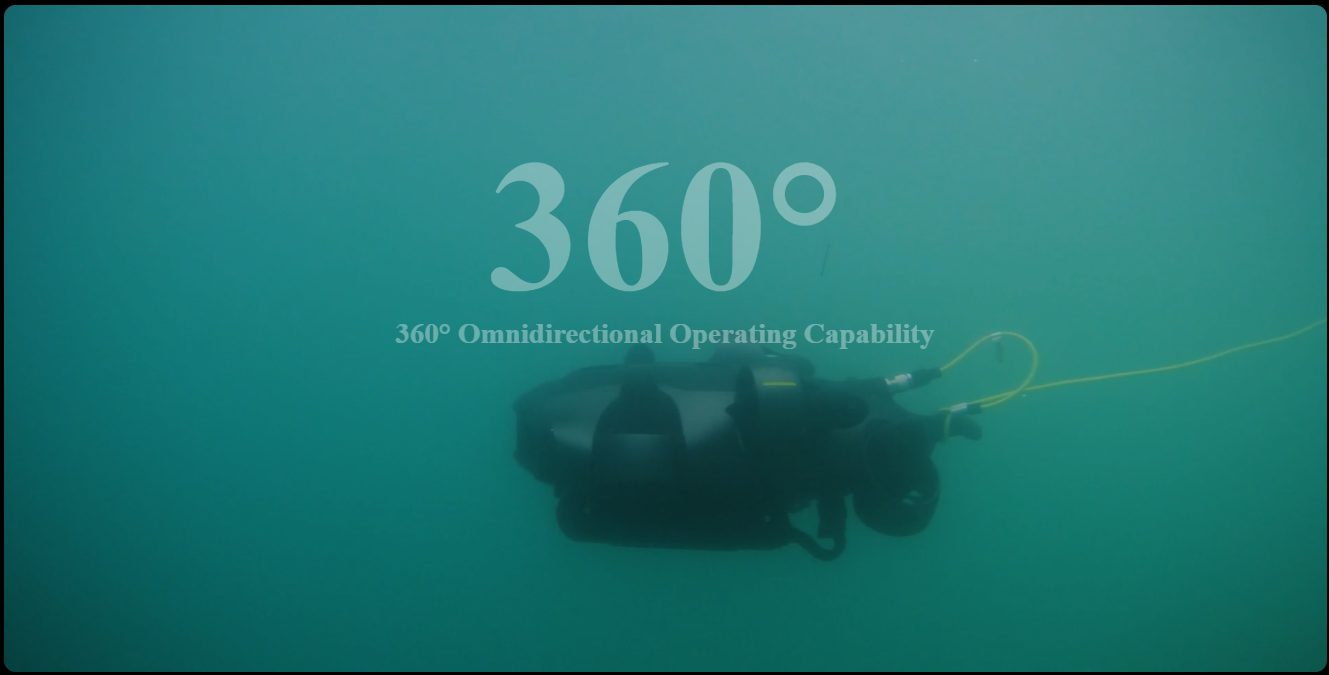 See Beyond Limits with
Ultra-wide Vision
Equipped with a 176° ultra-wide-angle reconnaissance camera, FIFISH E-GO sets the standard as the only robot in its class boasting a 146° fisheye field of view. Experience the forefront of underwater imaging technology.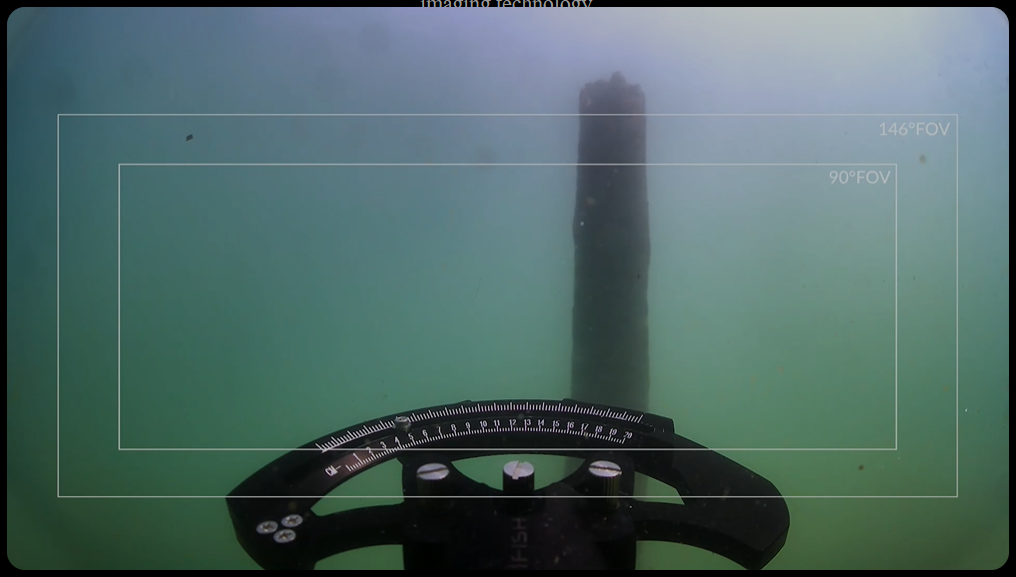 10cm Underwater Macro Capture
With a macro focus range of 10cm, FIFISH E-GO achieves maximum proximity to targets, allowing for a clear field of view across a range of underwater environments.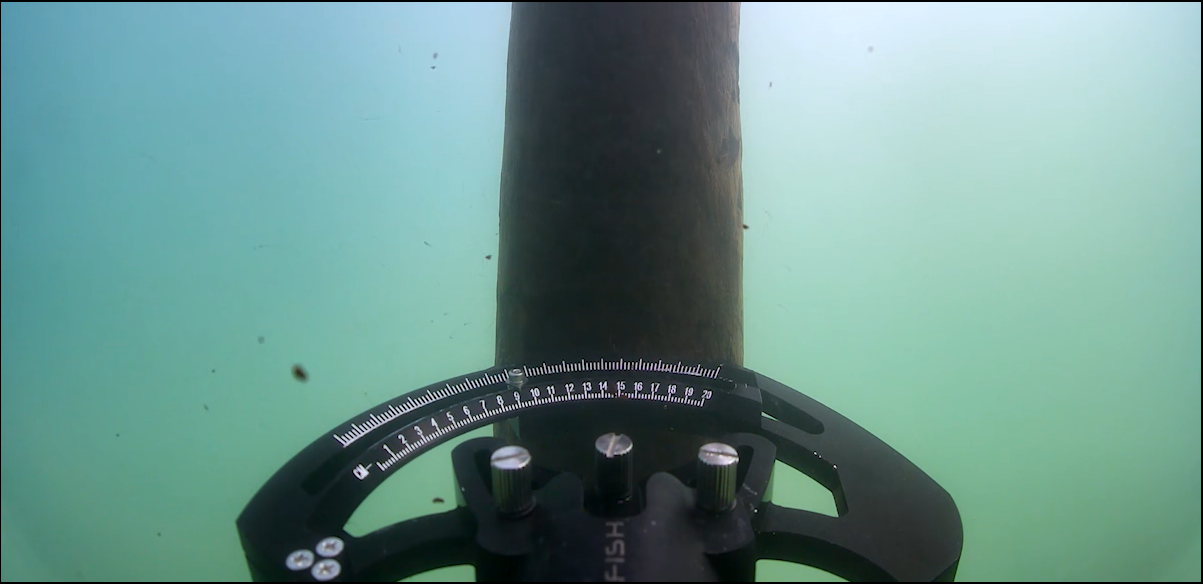 Empowered Operations with AI
FIFISH E-GO's AI Vision Station Lock enables effortless one-click target lock of underwater objects. With automatic hovering and current resistance, it provides reliable stability and support for underwater operations.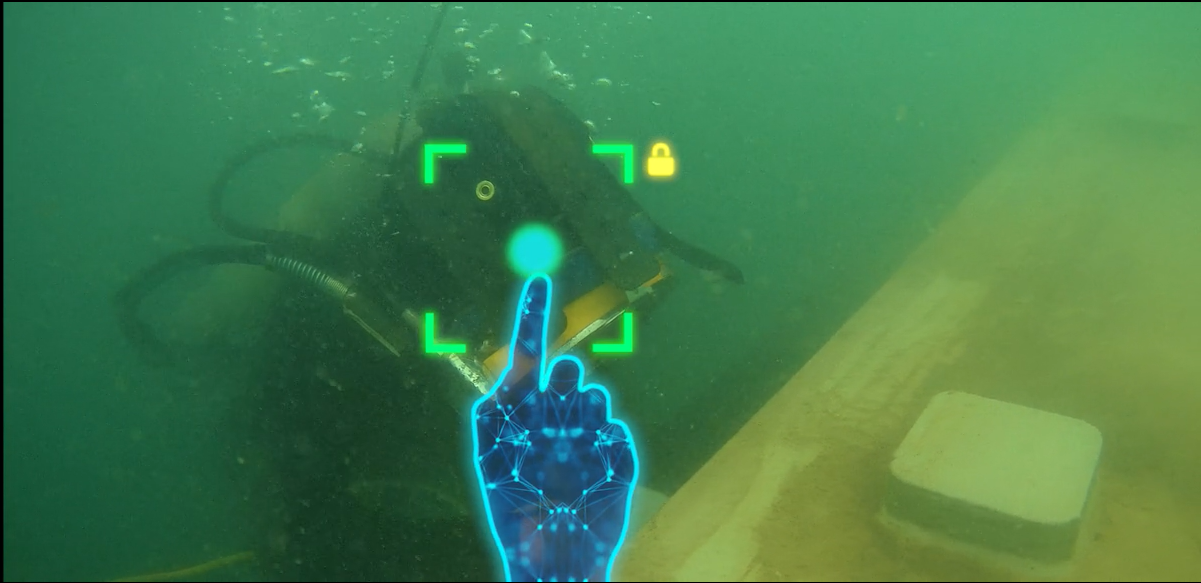 AI Filtering Algorithms,

Operate with Clarity
FIFISH's AI plankton filtering algorithm automatically identifies underwater plankton and enhances image quality through a detailed filtering system, resulting in optimized clarity and visibility of footage.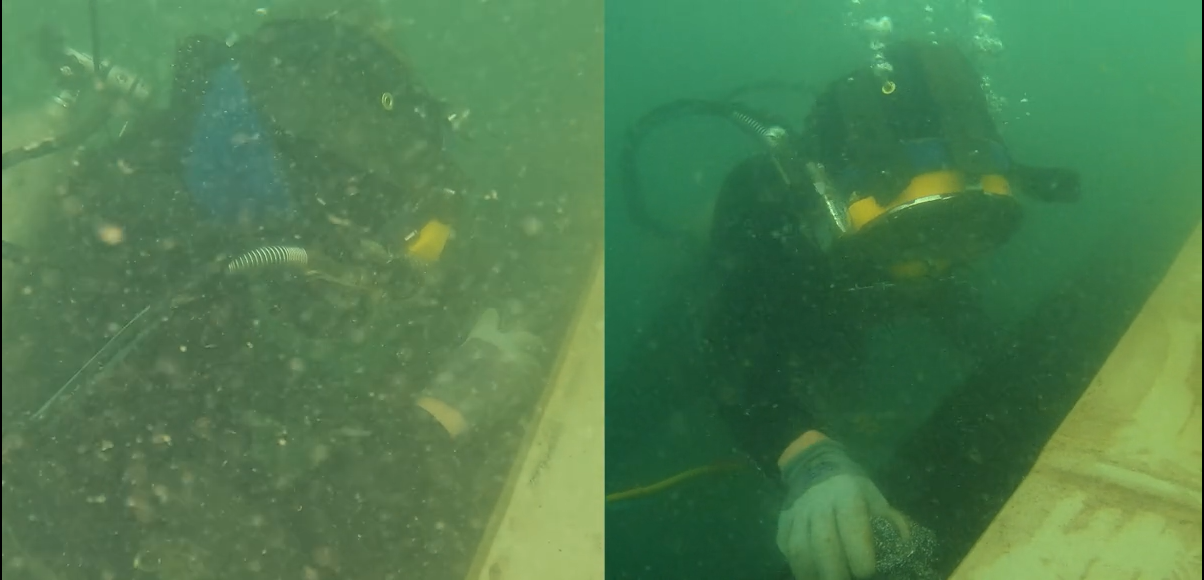 Action Camera Footage   vs   FIFISH E-GO Footage
Powerful Illumination,
Conquer the Depths

Equipped with four LED light sources, FIFISH E-GO boasts an industry-leading brightness of 10,000 lumens[2]. With a wide 160° lighting coverage angle, it illuminates the extremely dark underwater environments, enabling explorations with clarity and confidence.
Modular Structure & Design
Integrating four major modules - motor, imaging, lighting, and battery, FIFISH E-GO allows for swift spare parts replacement and maintenance, providing unparalleled convenience and efficiency.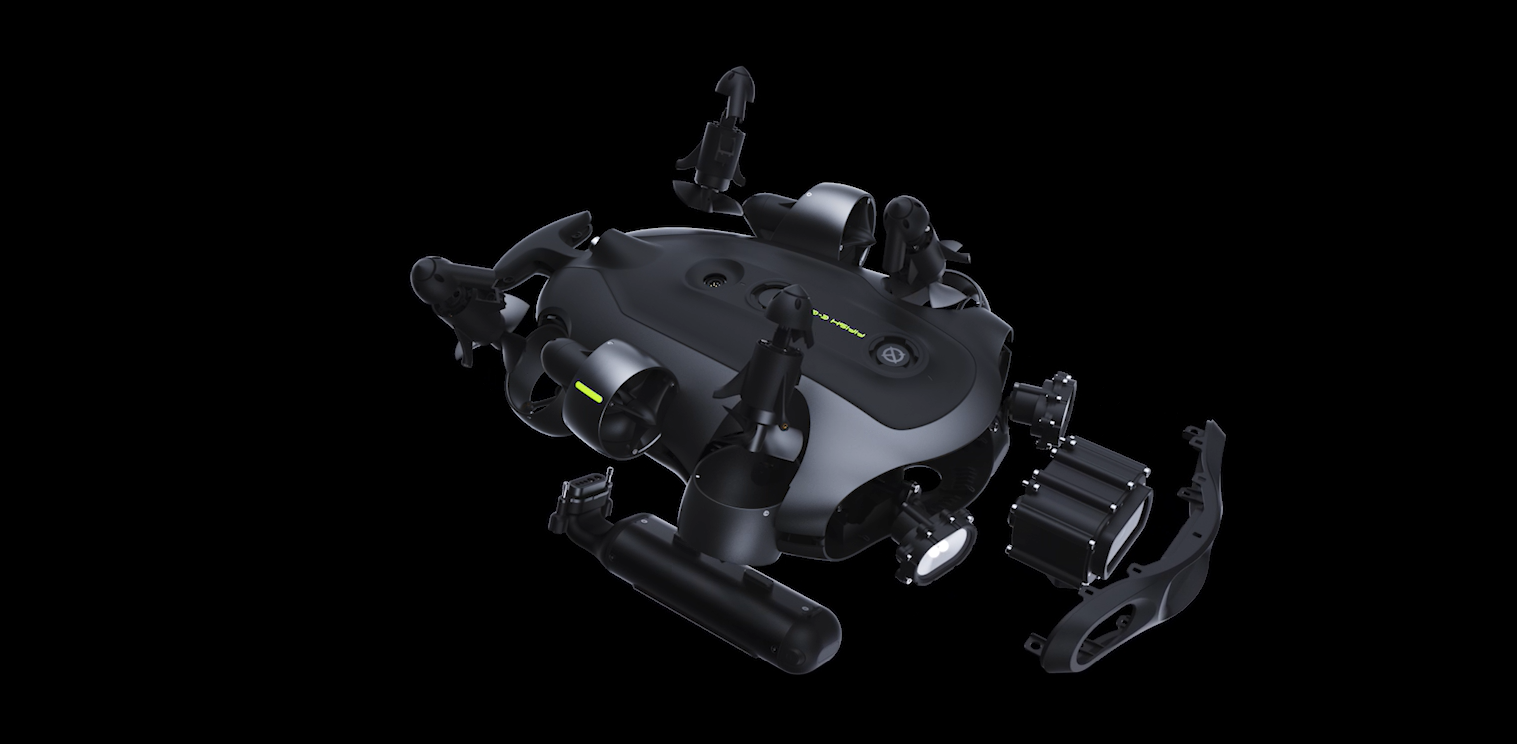 Instant Power Replacement,
Achieve Seamless Operations
The FIFSH E-GO features a dual hot-swappable battery system, each with a 72Wh capacity. Its innovative hot-swappable design enables seamless battery replacement without power loss[5], instantly restoring full power. The upgraded quick-disassembly structure incorporates pressure-resistant, waterproof, and corrosion-resistant connectors for fast and secure battery replacement.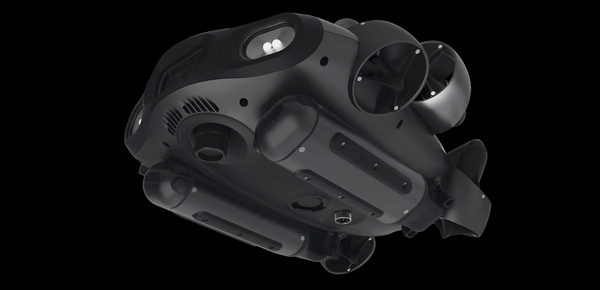 Portable Charging Station,

Worry-free Workflows
The portable and powerful Q-Energy Station[4] provides rapid charging, reaching 90% capacity in only 50 minutes. A feature resolving battery life concerns, making it an ideal choice for extended underwater operations.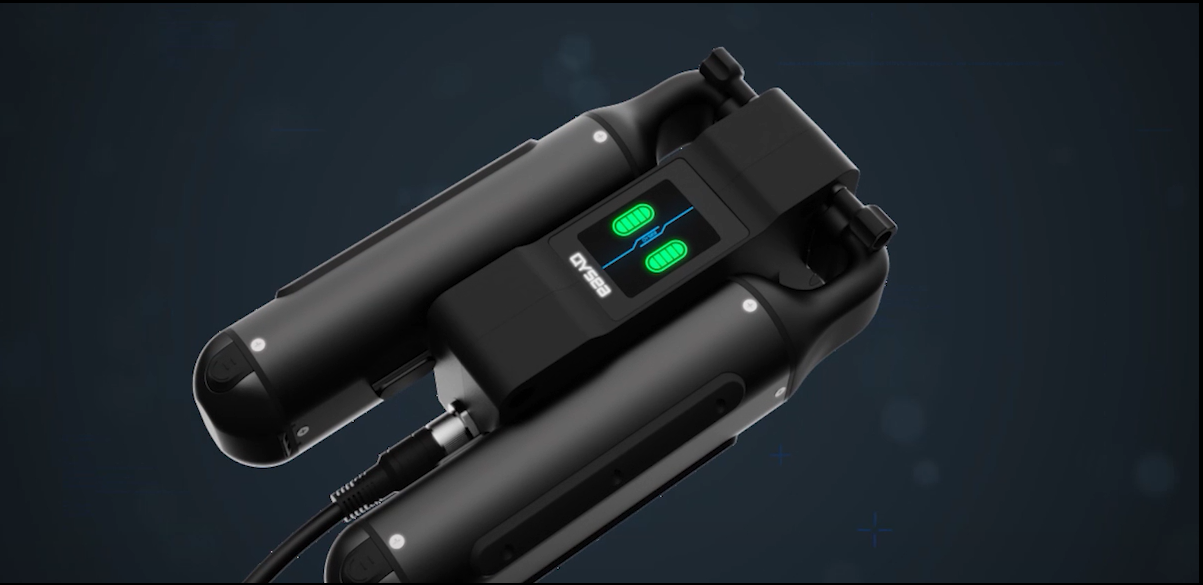 Dual Accessory Ports,
Double Your Efficiency
Experience enhanced versatility with the E-GO's redesigned internal space, featuring dual payload interfaces that allow operators to attach up to six operational tools simultaneously[6]. Unlock a new level of capability and adaptability for a wide range of tasks.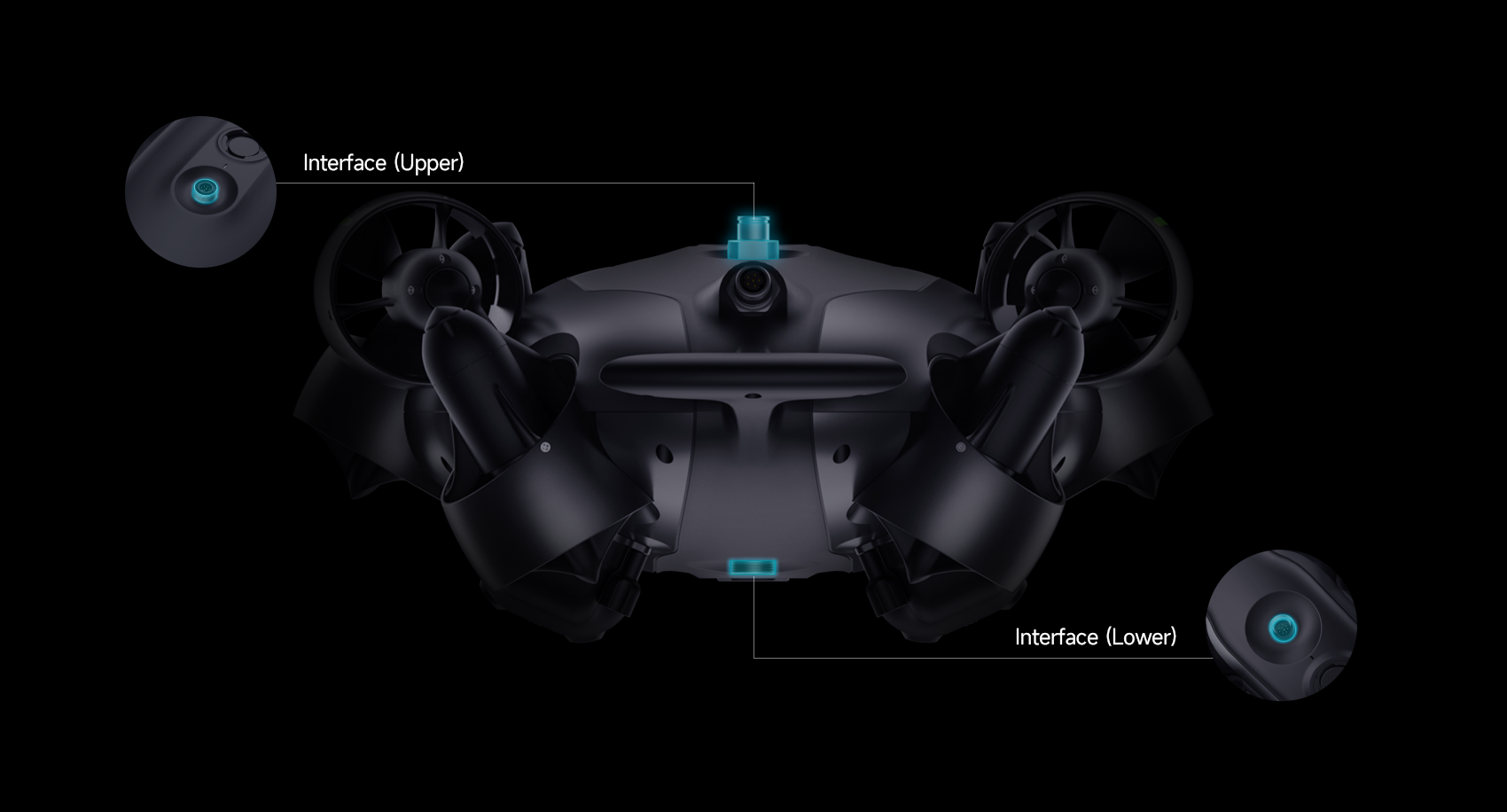 Quick Release Design,
Maximize Your Productivty
Optimize your operational efficiency with the E-GO's upgraded quick-release installation and disassembly structure. Attach operational accessories in as fast as 9 seconds, revolutionizing workflow efficiency and maximizing productivity.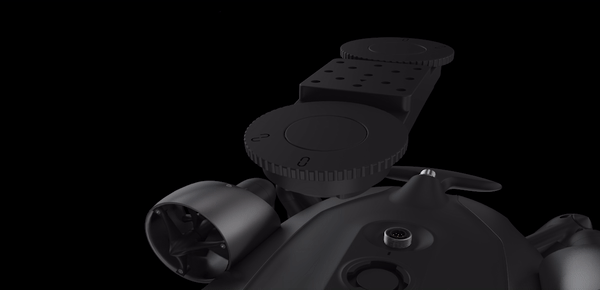 Professional Add-ons,
Customizable Combinations
The E-GO offers limitless flexibility by supporting a wide range of accessories, allowing operators to create a diverse array of operational setups. Leveraging its professional capabilities, it effortlessly adapts to different operational scenarios, ensuring optimal performance and versatility.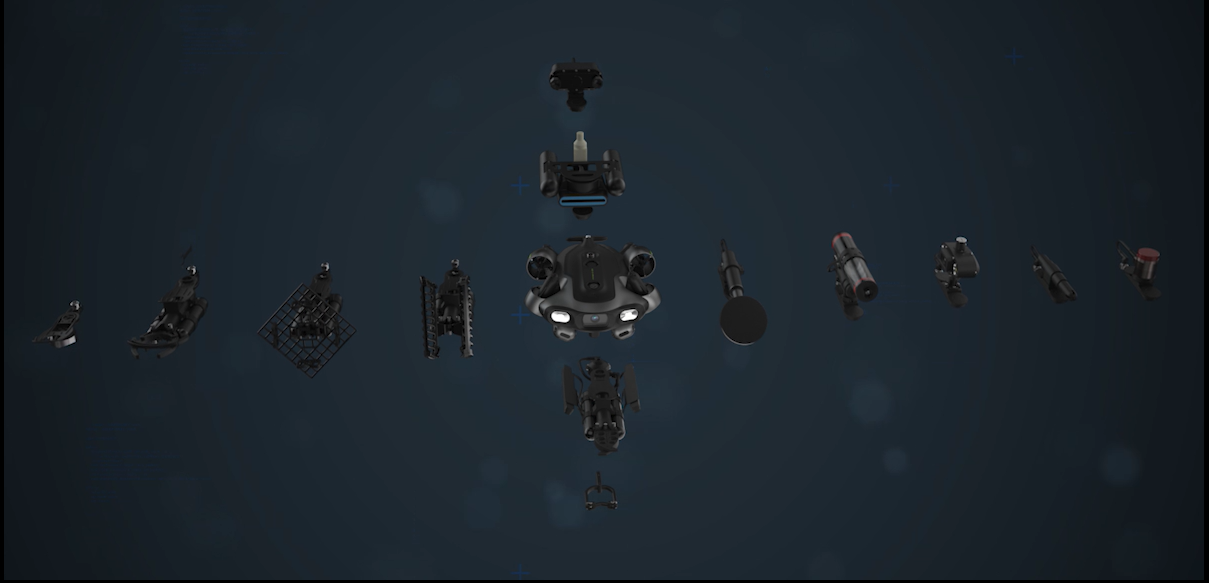 Quick Data Storage & Transfer
Maximize work efficiency with the E-GO's built-in Micro SD card slot. Get fast access to underwater operational data, allowing for efficient storage and retrieval of essential information of up to 256GB.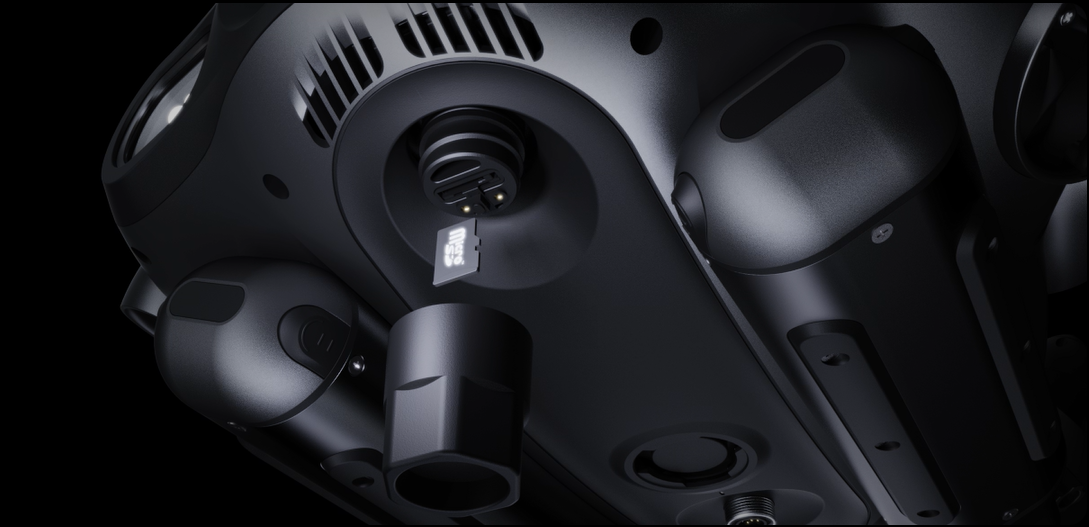 Expand Your Toolset,
Adapt with Ease
With a diverse selection of FIFISH underwater operation tools, the E-GO offers the flexibility to be equipped with various accessories, enabling seamless adaptation to different operational scenarios.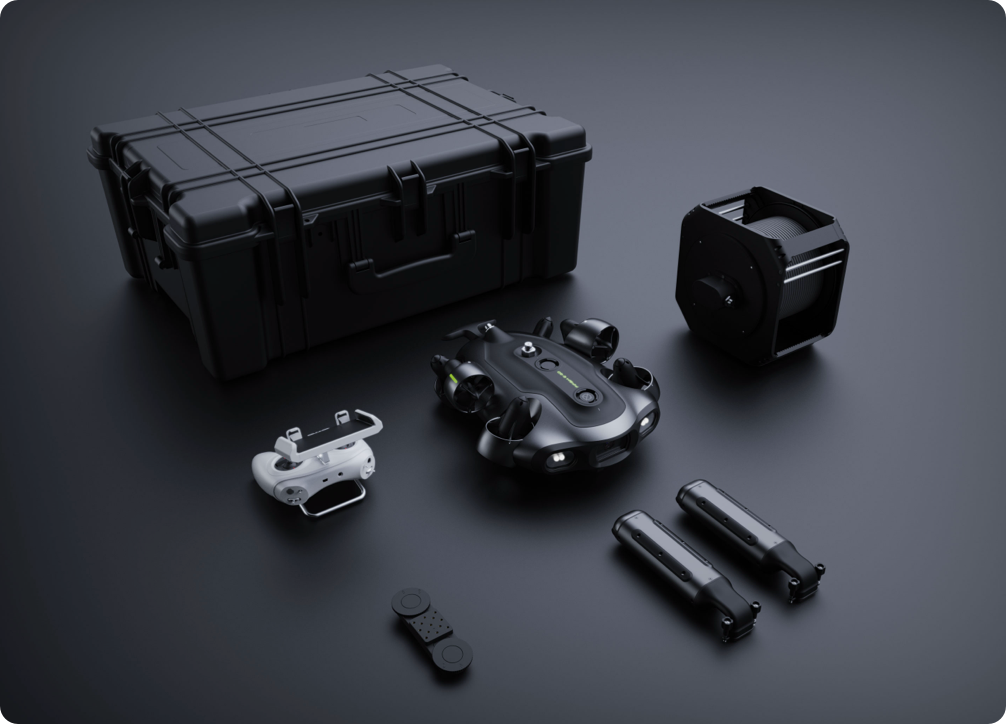 FIFISH E-GO | Standard Package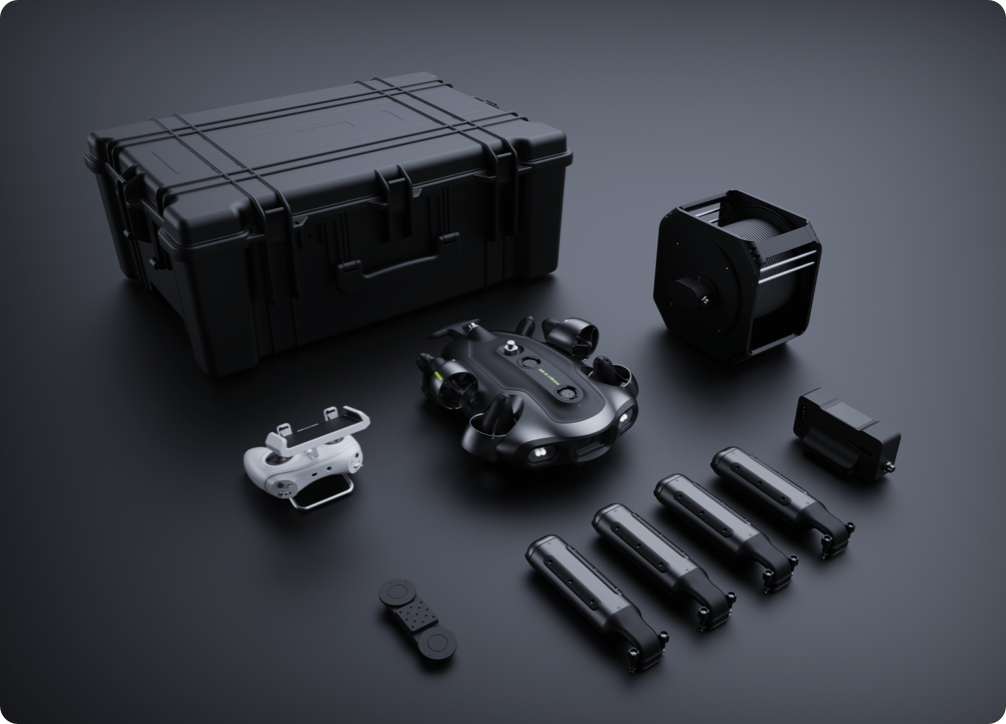 FIFISH E-GO | Professional Package
Remarks:
*Parameters listed on this page are based on controlled testing conditions of the mass-produced FIFISH E-GO underwater drone. Actual results may vary due to external environment, usage, and firmware versions.
1. Working duration data is obtained from FIFISH E-GO operating in static water, running standard intermittent tests until reaching 0% battery. Actual battery life may vary in different water environments and is for reference only.
2. FIFISH E-GO has four illumination beads, with each capable of a theoretical maximum luminous flux of 3000 lumens. When all four beads operate together, the theoretical maximum luminous flux is 10,000 lumens.
3. The upper expansion interface of FIFISH E-GO supports 11V-24V@5A, while the lower expansion interface supports 12V@5A.
4. Q-Energy Charging Station is optional and available as part of a package or for separate purchase.
5. Hot-swappable battery replacement for FIFISH E-GO is only supported in an air/ above-water environment. Please do not replace the battery underwater.
6. FIFISH E-GO requires the use of the Q-interface expansion dock to support a maximum of six operating tools simultaneously.