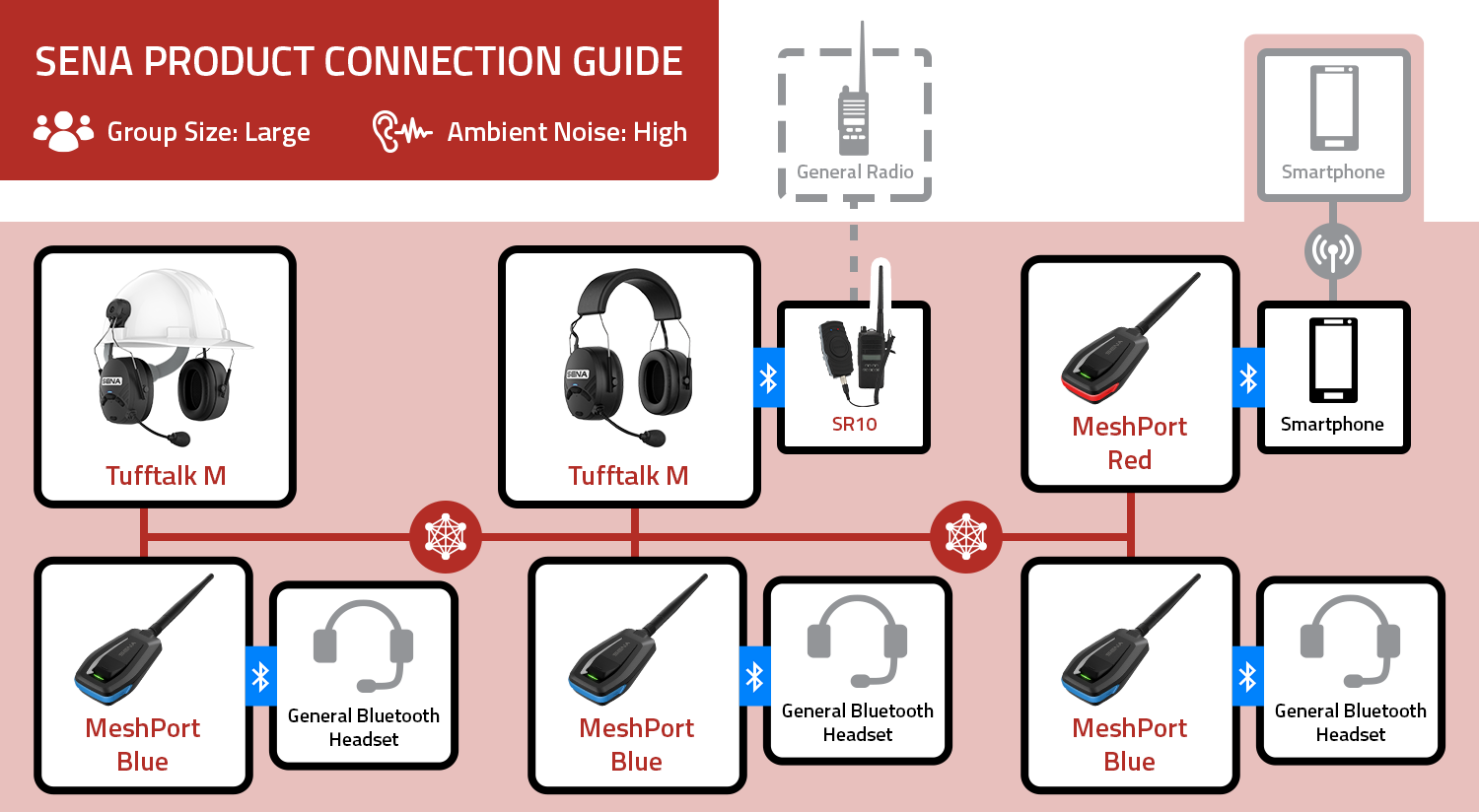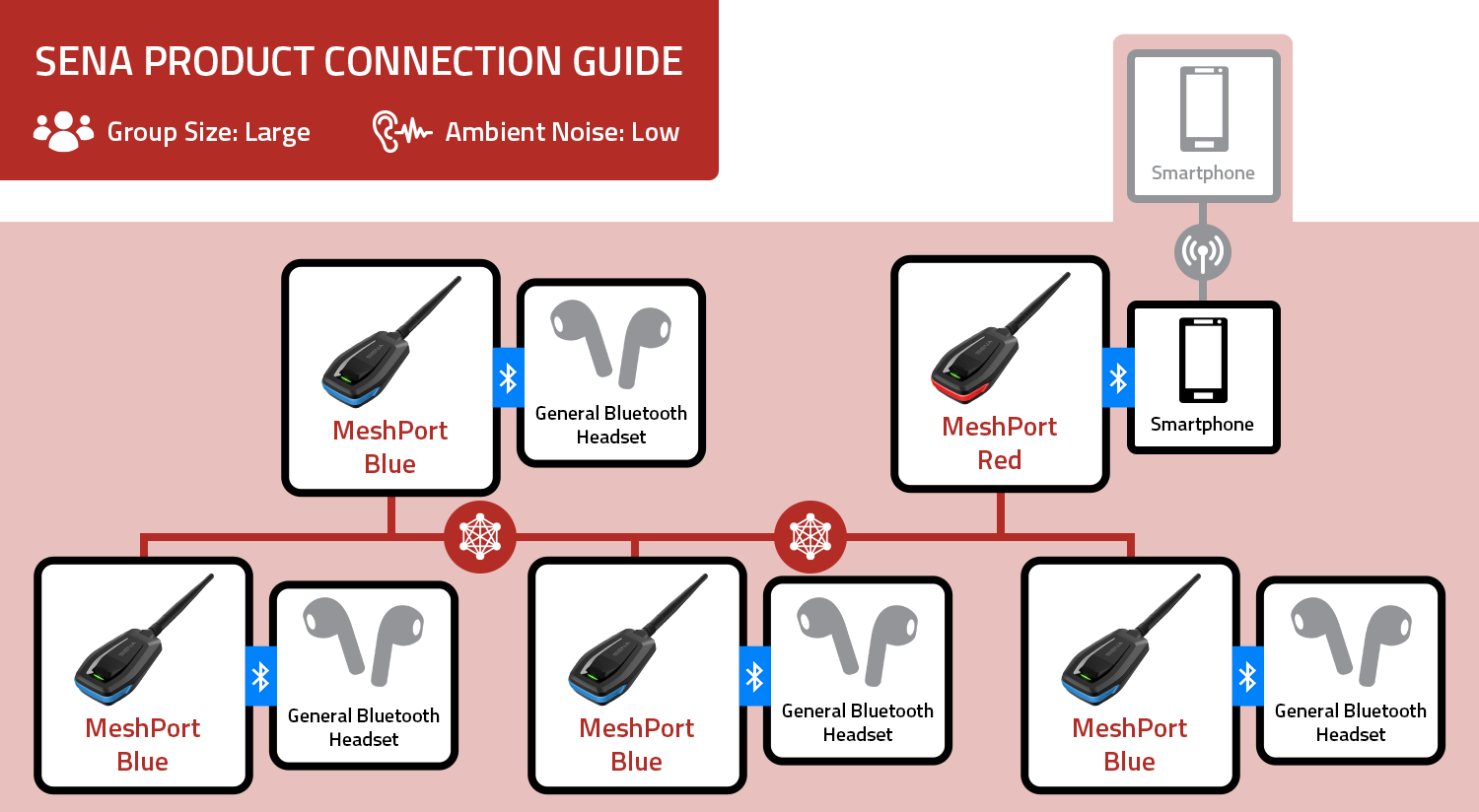 Overview
TAKE ADVANTAGE OF MESH INTERCOM NETWORK REGARDLESS OF HEADSET BRAND
Upgrade non-Sena Industrial brand Bluetooth headsets such as AirPods or Google Pixel buds with Mesh Intercom capabilities with Sena's MeshPort Blue Adapters. Start communicating immediately with Sena Industrial Mesh headsets too such as Tufftalk M or other brands of Mesh intercom headsets supporting Bluetooth 4.1. MeshPort Blue allows users to connect any other brand of general Bluetooth headsets to the Mesh network. MeshPort Blue is designed for use with one headset and has a range of .8 km (.5 miles). MeshPort Blue is idea for industrial settings wanting to retrofit existing headset inventory or to let individuals use their own headsets for communication on the workfloor or worksite with crystal clear clarity.

MESH INTERCOM CAPABILITIES WITH YOUR OWN HEADSETS
MeshPort Blue allows you to connect with more powerful Mesh Intercoms from Sena Industrial such as Tufftalk M. By allowing users to deploy their own lightweight Bluetooth 4.1 headsets, earbuds or around the ear headsets, they can take advantage of the extension of the more powerful Mesh Intercom capabilities. No need to use other headset gear when workers can use their own headsets in the work setting.

LIGHTWEIGHT YET EXTENDABLE
MeshPort Blue is lightweight, weighing just over 60 g. (2 ounces) yet has a range of up to .8 km (.5 miles) in open terrain which is ideal for small to midsized work environments. Talk time is up to 8 hours with standby time of 250 hours. Mesh Intercom capabilities (Open Mesh) can extend the range up to 3 km (1.9 miles) between a minimum of 6 users on one channel. And, channels can be adjusted 1 to 9 in the MeshPort App to support larger teams at the worksite or on the shop floor.

HANDSFREE OPERATION FOR LIGHT WORK SETTINGS
Because workers are using light weight non-Sena headsets either provided by the company or their own gear, they can perform tasks in the workplace more freely and safely while being connected to other team members through the Mesh intercom network.

---
In The Box
MeshPort Blue Main Module
USB Power & Data Cable
Belt Clip Mount
Rubber Strap Mount
Flat Surface Mount
---
Specifications
GENERAL
Dimensions:
45 mm x 187 mm x 26 mm (1.8 in x 7.4 in x 1.0 in)

Weight:
60 g (2.11 oz)
Operating temperature:
-10˚C – 55˚C (14°F – 131°F)
BLUETOOTH
Bluetooth 4.1
Headset Profile (HSP)
Hands-Free Profile (HFP)

MESH INTERCOM
Working distance:
up to 0.8 km (0.5 mi) in open terrain*
*Can extend up to 3.0 km (1.9 miles) between a minimum of 6 users

Supports Channels:
9 channels

AUDIO
Noise gate
Sample rate of 16kHz (wideband), 8kHz (narrowband)

BATTERY
Talk Time:
up to 8 hours

Standby Time:
250 hours
Charging Time:
2 hours

Type:
Lithium Polymer
3.8V, 1200mA

CERTIFICATES
CE, FCC, IC, KC NCC, JAPAN MIC
---
Support

Instructions for Firmware Update
Step 1: Download
Download and install the Sena Device Manager on your computer.
Step 2: Update